July 12, 2018: AION Management Celebrates First Anniversary
July 12, 2018; Philadelphia, PA: AION Management was joined by AION Partners and AION Construction today in celebrating the first anniversary of the multi-family management division of the firm. Employees from all three arms of the company came together in Philadelphia to recap the first year of business and look forward to what year two and beyond will bring to the company.
While on the Spirit of Philadelphia, AION team members heard from members of AION's Executive Team, including Michael Betancourt, Robin Flagler, Billie-Jo Sedlacek, and Dave Killiri. All team members were treated to lunch, dancing, great views of Philadelphia, and camaraderie.
Thank you to everyone for an exciting and successful first year, and here's to many more!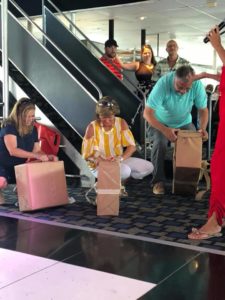 # # #
About AION Management:
AION Management was formed in 2017 to create a "Best in Class" property management company dedicated to providing excellent customer service and value to our residents and committed to maximizing the value of our real estate assets through modern and functional renovations that our residents with unparalleled options in their homes. For more information about AION Management, please visit www.aionmanagement.com.