May 7, 2018: AION Team Honored at 2018 The APTS Magazine Awards Presentation
May 7, 2018; Philadelphia, PA: Robin Flagler, President of AION Management, took home several individual awards this evening at the 2018 APTS Magazine MVP awards. Congratulations, Robin!
The AION Team was presented with the following:
2018 Tournament Champion – Robin Flagler, Sage Kralik, Kevin Kralik, and Keith Barch from MSH
2018 Tournament Runner-Up – Alex Case and Brendan Glavin from AION Partners and Scott Berger and Doug Berger from Direct Supplies Warehouse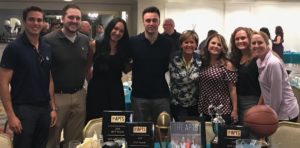 # # #
About AION Management:
AION Management was formed in 2017 to create a "Best in Class" property management company dedicated to providing excellent customer service and value to our residents and committed to maximizing the value of our real estate assets through modern and functional renovations that our residents with unparalleled options in their homes. For more information about AION Management, please visit www.aionmanagement.com.